Employee - admin/manager possibilities
How to add a new Employee?
This article explains how to manually add a new employee in HR Cloud.
Adding a new employee usually refers to adding a new hire's record to the system. This includes adding general details about the employees, their contact information, compensation related information etc.
To add a new employee, go to the People app and click on the people tab.
Click on '+' icon on the top of the grid. Employee profile form opens.
Fill in the form with employee's details.
Choose which checklist you wish to assign: Pre-hire Checklist, Onboarding or No auto assignment.
Check if the right Checklist has been triggered by clicking on Review Assigned Tasks.
If everything is okay, click Save.
Here's a short video of the steps above:
Useful tips:
You can search employee's information by sections.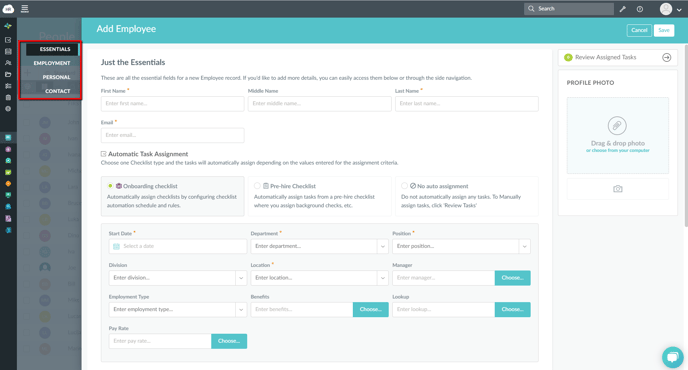 In the Review Assigned Tasks step you can make changes by adding, editing or deleting tasks.