This article explains what is Checkr and how can you use it in HR Cloud.
Checkr is a technological solution that provides an easier way for employers to perform background screenings.
To start using Checkr, an HR Admin first needs to connect HR Cloud with Checkr by following these steps:
1. Log in to the HR Cloud
2. Go to the System Settings (the Gear icon at the lower left)
3. Click on the Integrations page and then on the Checkr
4. Acknowledge Privacy Policy in order to be able to click on the Connect to Checkr button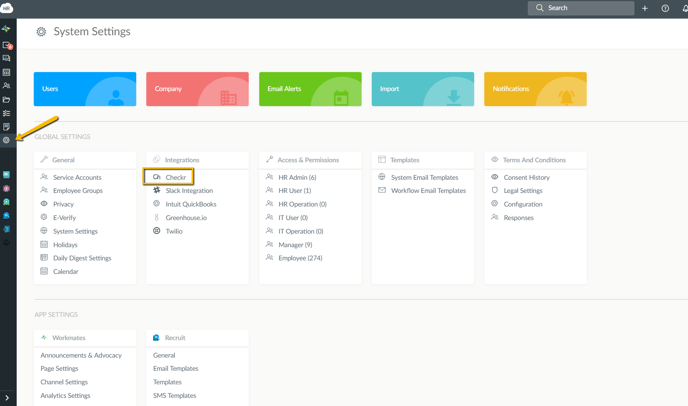 5. Once you click on that button, you'll be prompted to provide credentials to log in to the Checkr account.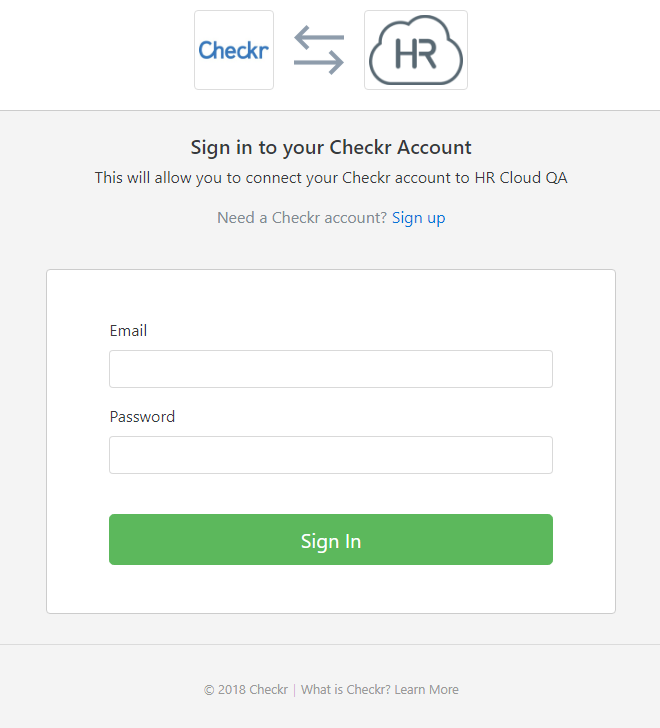 6. After you log in, the integration status on the Integration page will change to Connected and Credentialed.
Congratulations! You have successfully finished the setup phase.
The second step is to add tasks to your Onboard checklist.
Please proceed to the Checklist builder in Onboard app.
Open the Checklist and, under Tasks section, press the Add Task button and choose Initiate Background Check from the library tasks.
Once you do this, the multistep task will be added to your checklist. Click the Save & Close button.
When this task is added to an employee, an HR Admin will receive the first task Initiate Background Check where he'll need to select a suitable package.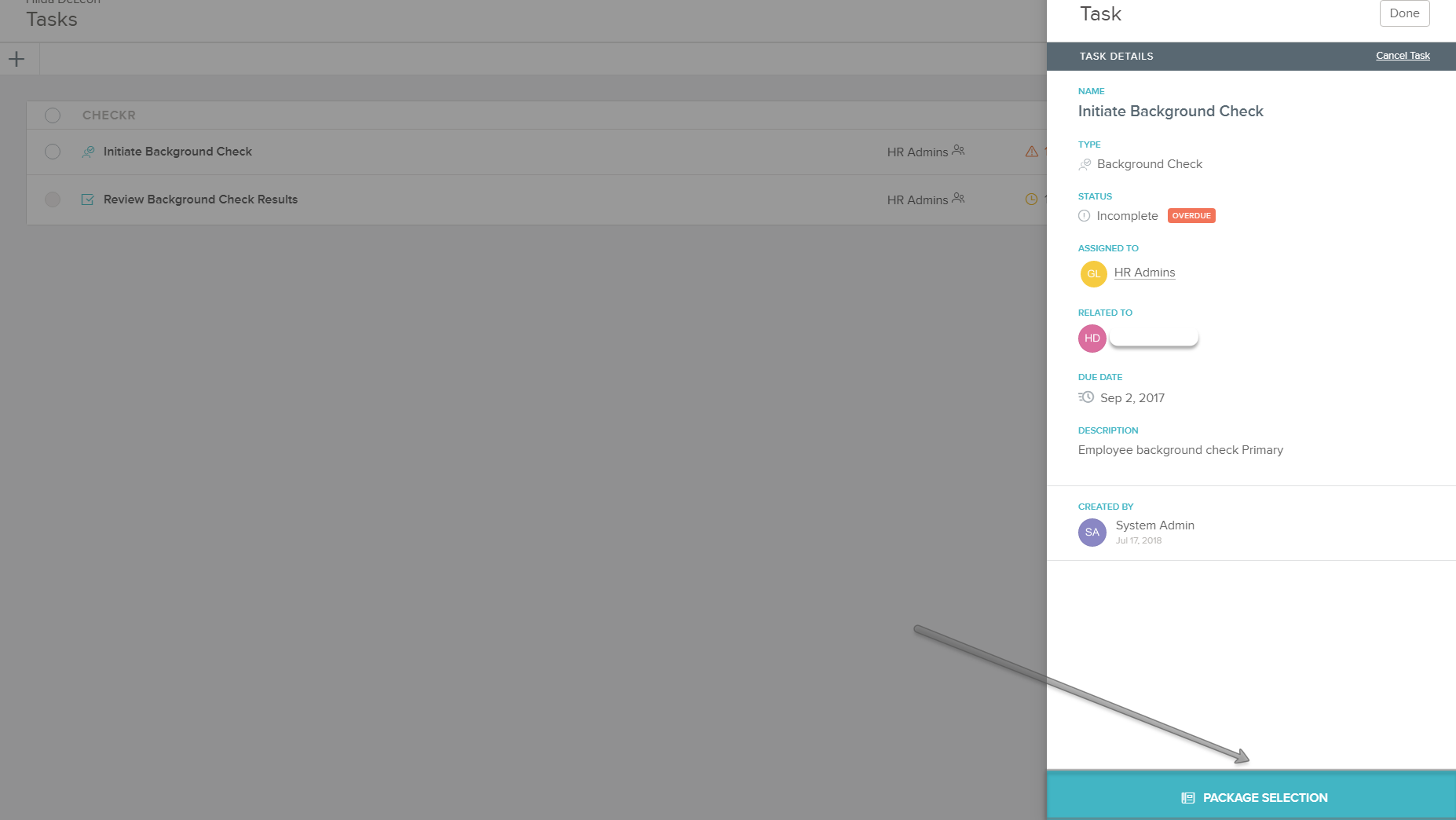 You can choose between several packages, depending on your needs.
Once the package is selected and the task is completed, employees will receive an invitation link on their emails. This link will lead them Checkr's website where they'll need to fill out the required information.
There are four steps to go through:
1. Welcome
2. Your Rights
3. Disclosure
4. Authorization
After Authorization, they need to press the Submit button.
This action will allow HR Admin to complete the second task from the checklist: Review Background Check Results. This task contains Report URL link from where an HR Admin will be able to see submitted data.
After reviewing the information, the last step is to complete the task by clicking the Complete the task button.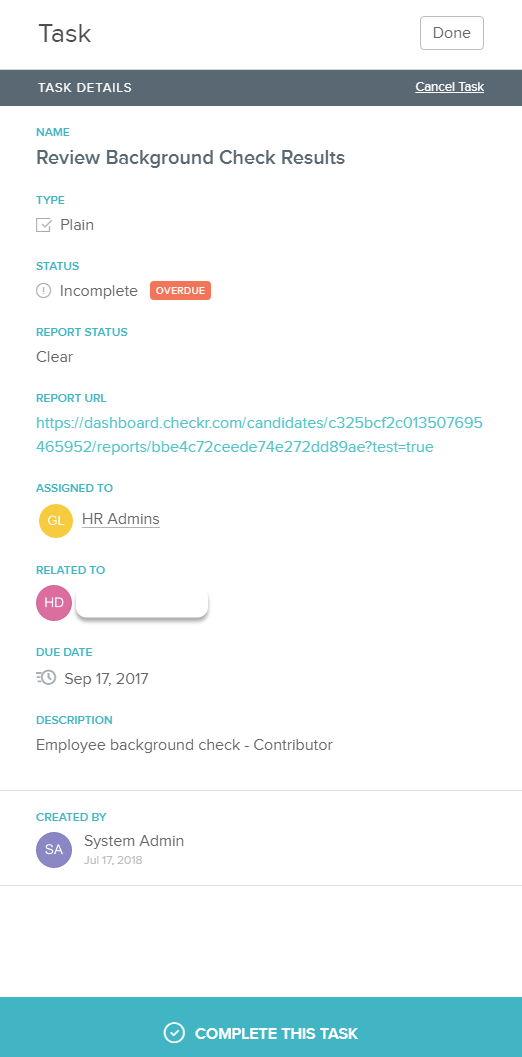 Finally, the pricing for the available background checks is listed here.
Above is the pricing guide that contains the current default packages and a la carte screenings that can be used to create custom packages by emailing clients@checkr.com.
Please note that this integration is not GDPR compliant. In case you have users within the EU, then you shouldn't connect this integration because it doesn't comply with all the GDPR-enforced data rights.
*Please note that a setting in Checkr account called "Account Hierarchy" needs to be disabled by Checkr in order for the integration to work.