This article will help detail the elements of the new employee profile design
The biggest change in the new design of the employee profile is the differentiation between the "Bio" and "Job" tabs, The "Bio" tab contains the about me section from the old profile design. The "Job" section contains all of the employment details like position, department, location, employment type, manager, etc.
The location of the section that contains tasks, forms, documents, notes have been moved to the left-hand side of the screen, below the profile picture. The header space on the right side of the picture will contain some employment information about the user, their full name, position, department and start date.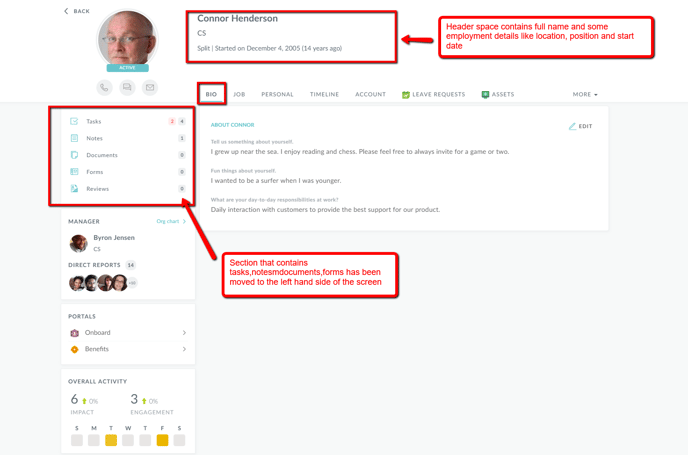 Below the section that contains tasks, documents, forms, and notes you will find the manager widget. The manager widget allows the user to see their manager as well as the list of their direct reports. Under the manager widget, a list of portals that the user has access to can be found.,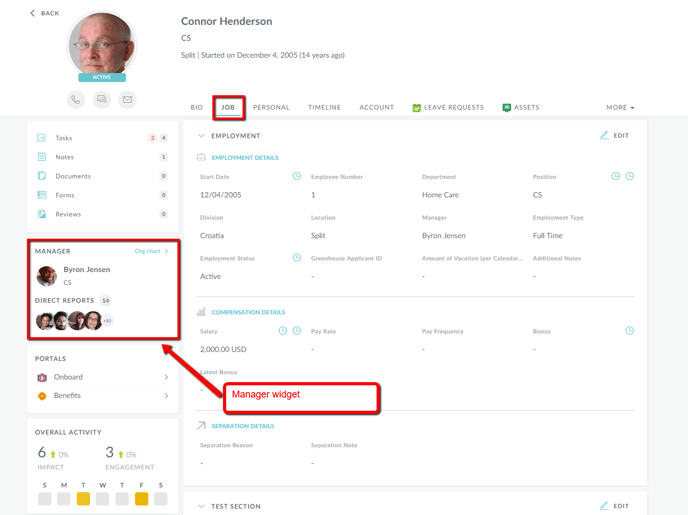 Tasks, documents, notes, as well as the manager widget, have been updated with the quick action option. The quick action option allows you to assign tasks, add documents and notes, make a position change or add a new employee profile as a direct report. You can see the video below for a short preview of the functionality.
Users of the Workmates application will have the ability to recognize employees straight from their profile by giving them a Kudos for their hard work.